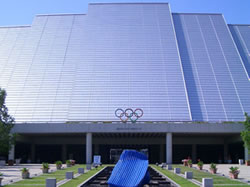 M-WAVE brought a lot of excitement to Japan during the 1998 Winter Olympic Games in Nagano as the venue for the speed skating events. It also served as the venue for the opening and closing ceremonies as well as the ice sledge event of the Winter Paralympic Games in Nagano. It also welcomed the athletes from around the world as the venue for the opening and closing ceremonies of the Special Olympic Games in 2007.
Today, M-WAVE has two recognizable faces: that of a world leading skating arena in winter and as a multifunctional entertainment venue in summer. It is the largest arena in Nagano Prefecture and hosts a variety of events such as sport, music and cultural events.
Enjoy the unique shape of M-WAVE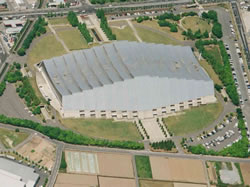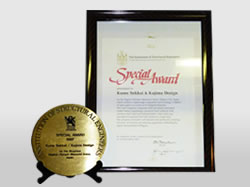 "M-WAVE's" nickname derives from the shape of its roof, representing the mountain ranges of Nagano, which consists of a series of wavelike M-shapes. It is an original and unique structure constructed using the laminated wood of larch trees grown in Nagano.
It received a special award recognizing it as a premiere Japanese structure in 1997. This award is a prestigious global award specifically given to a prominent architectural structure, a previous winner of which is the Opera House in Sydney.
The first indoor speed skating rink in Japan with 400m double tracks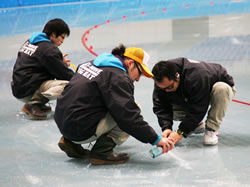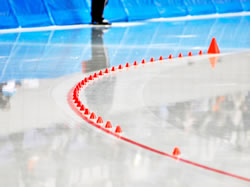 M-WAVE, authorized by the International Skating Union, is the first indoor speed skating rink in Japan housing 400m double tracks. M-WAVE is equipped with a computerized water quality improvement machine and an ice temperature control system in order to permanently ensure the best skating conditions and high clarity, quality ice is maintained by professional staff. It receives a lot of attention as a high speed rink upon which new records are set, one after another.
Hosts numerous major speed skating events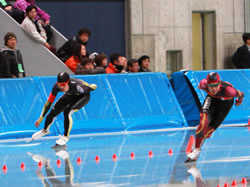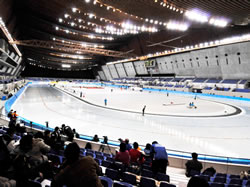 It has hosted a number of important speed skating events such as world cups and the world single distance speed skating championships sanctioned by the International Skating Union, All Japan class competitions and Japanese Olympic trials.
Its skating rink is revered as a sacred place among junior skaters in Japan.
The rink is equipped with the latest large screen computerized measurement display system, and has a 6,500 seating capacity. The screen shows the real-time dramas that are repeatedly played out here.
Please come with your family to the Memorial Skating Rink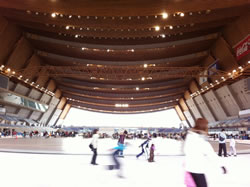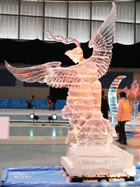 This Memorial Skating Rink is open to the general public from October to March every year.
There is an oval rink 400m in length and 15m in width, a 30m×60m hockey rink is housed inside this oval rink. You can enjoy a variety of events such as skating lessons and even try riding on an ice resurfacing machine. About 100,000 visitors come to skate every year. An ice sculpting exhibition is held at the same time as the opening of the free skating ice rink. There are always plenty of elaborate ideas and all ages will enjoy the creation of these beautiful structures whether or not they are skating.
Environmentally friendly design that improves spectator experience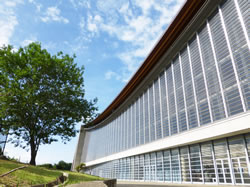 M-WAVE's environmentally friendly design enhances the experience of its spectators.
1. The heat from the freezer which cools the ice rink is used to heat the inside the hall. This was the first time in the world that the practical use of heat conversion technology on which this is based was used.
2. The large jalousie windows on the arena side gable provide sunshine and natural air flow. They create a comfortable arena and contribute to energy saving.
3. The cooling system uses an environmentally friendly CFC-free ammonia screw freezer.
Multi functional arena. Interior space can be freely designed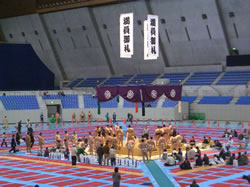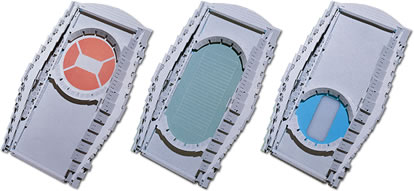 There are two movable stands on the east and west sides, this arena was designed to be used for a wide variety of purposes by moving the stands depending on requirements.
When the seats are fixed there are a maximum of 6,500, when they are moved circularly 3,000 seats are available. A variety of floor arrangements are possible so the space can be used freely for concerts, sports events, ceremonies, assemblies etc. It is also possible to host two events at the same time.
A huge space suitable for a trade fair or large-scale show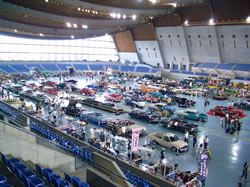 The layout and space inside the venue is ideal for housing a large number of exhibition booths. A number of trade fairs and large-scale shows are held every year and around 250,000 visitors have a wonderful time.
Approximately 300 automobiles can be stored inside the arena and large-sized showpieces are possible such as for farming machinery and caravans or mobile homes.
The arena's parking can accommodate around 900 automobiles.